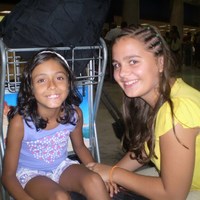 Paula
The exchange student will be part of your life forever!
Love, gratitude and respect are the common language
When my daughter was eight, she kept asking me to give her a sister. As I had recently divorced and had no plans to have another baby, I hosted my first exchange student and gave her a 'big sister'. It was a great idea! Orsi was from Hungary and, in spite of the age difference, she got along very well with Isabela and the two became real sisters. She helped me in a lot of ways, even picking up my daughter at school when I was not available, and brought us the joy to do things together as a family. Orsi loves children and was very happy to have a young sister. By hosting her I had a glimpse of it what was like parenting a teenager.
Orsi came back to visit a few times and her relationship with Isabela has always been very strong. In 2013, I had to go to a work meeting in Europe and the city it would be held was only 60 km away from Orsi's house. I took Isabela with me and left her for a few days under the care of her exchange sister and her natural family. At the end of my work assignment, I met Orsi's natural family and I was really happy to finally get to know them. Although we had no language in common, we had a wonderful time exchanging looks, smiles and laughter. Love, gratitude and respect do not need a common language. They are the common language!
The next year, 2014, Orsi woke up in the middle of the night because she had a dream she could find a very cheap ticket to Brazil. She searched the internet and found a ticket unbelievable cheap. She bought it and packed. On the day of her arrival, after picking her up at the airport, I took my father to the hospital, where he stayed for 10 days before passing away. Orsi was very glad she was able to say good-bye to her Brazilian grandfather and I was very grateful she was here to give us some emotional and logistic support in such a difficult moment. After all, she is part of the family and her presence was comforting for everyone. I'm really glad she had such a dream.
In 2015, I had a chance to host another exchange student that needed a host family change. Isabela is 14 now and still feels miserable about being an only child. She warmly welcomed her new exchange sister, Zoe, from Germany. The age difference is smaller now, only 3 years, and they do a lot of things together. They share clothes, friends, music, films, and pictures. Now I have two teenagers at home and life is never easy, but it's almost always fun! In a few weeks, we will need to send Zoe back to Germany, but we know that she will be ours forever!