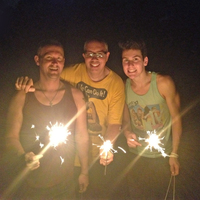 Stenly
I love you with all my heart!
I still remember the time when I came and everything was so exciting. Every little thing made me excited such as going shopping, or going to eat at a restaurant, with which they spoiled me. I can proudly say that they turned me into a "lazy American" in just 10 months. I will never forget those priceless times when we had game nights with family and friends, just random eating dates, trips to different parts of the states, and, of course, those midnight gym visits. I could really be myself and enjoy every little aspect of my life.
If I had to choose between my natural parents and my host parents, I just couldn't decide because they both are golden and stuck deep in my heart. Thank you Dads for making me appreciate everything and everybody in this big world as well as making myself, me. There are just not enough words to describe y'all. I love you with all my heart!